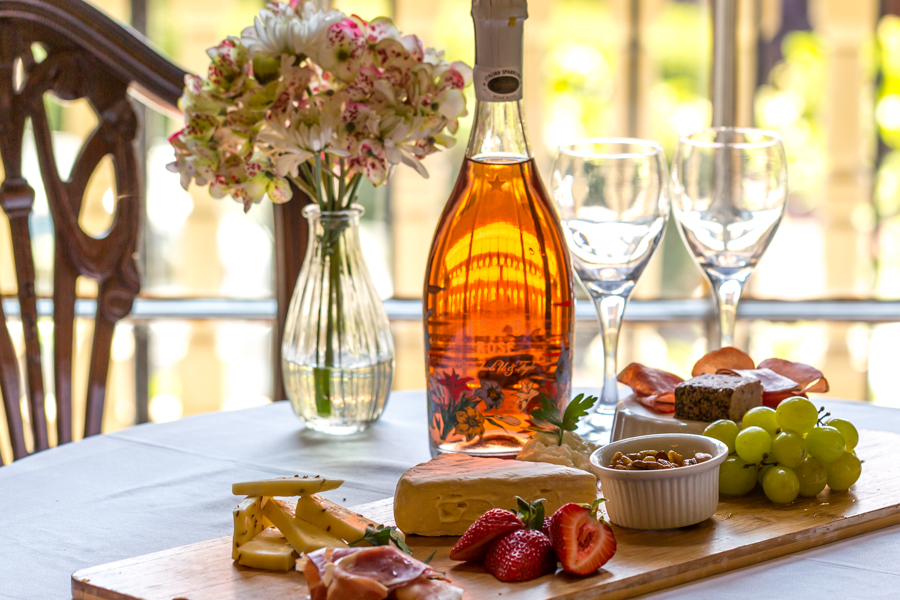 Picnics and Charcuterie Boards
Prepared by the Chefs at The Gastonian
Indulge in a truly timeless experience by reserving a picnic from The Gastonian. Your picnic will be delightfully delicious, and made by the chefs at The Gastonian from a collection of favorite Southern foods. Another option is our carcuterie board and wine, perfect for a little in-room or private porch side dining, or as an addition to your to-go picnic.
---
MENU OPTIONS:
GEORGIA ON MY MIND - $75
Shrimp Salad, Deviled eggs, Pimento Cheese sandwiches, 2 Slices Pecan Pie, Peach Sweet Tea or Lemonade
•
SOUTHERN SANDWICH SELECTION - $75
Sandwich options perfect for a beach getaway! Choose Boars Head deli sandwiches (Choice of Roast Beef, Turkey or Ham), Homemade Chicken Salad Sandwich, or Shrimp Salad Sandwich. Tea or Lemonade. Fresh Fruit, Pasta Salad, and choice of pretzels or chips.
•
VICTORIAN LUNCHEON - $75
Cucumber Tea Sandwiches, Cranberry Scones, Smoked Salmon on Cucumber, Cheese cake for 2, Tea or Lemonade
•
CHARCUTERIE BOARD - $75
Cheese board with assorted meats, cheese and fruit
---
Special Dietary Requests Welcome!
Are you gluten-free, vegan/vegetarian, or just prefer something else? Just contact us and we'll arranged something perfect for your picnic.
---
PICNIC TO GO
For a Take-Anywhere Outdoor Picnic
Perfect for Taking to Tybee Island, Wormsloe Historic Site, Bonaventure Cemetery, or Anywhere You Want to Go
Our chefs will prepare the perfect picnic --- all you need to do is pick it up and enjoy it at your leisure. Served in an easy to carry insulated backpack, our picnic to go kit includes wine glasses, flatware, and napkins for two, bag of ice, serving tongs, damp towelettes, and a blanket.
Book Your Room & Add Picnic to Your Reservation
Add Picnic-to-Go to Your Existing Reservation
Make it Special
ADD WINE, PROSECCO, OR CHAMPAGNE
Premium Chilled Champagne & Two Etched Keepsake Flutes - $95 plus tax
Chilled Champagne & Two Etched Keepsake Flutes - $60 plus tax
Chilled Prosecco & Two Etched Keepsake Flutes - $60 plus tax
Chardonnay - $30 plus tax
Pinot Grigio - $30 plus tax
Cabernet - $30 plus tax
Pinot Noir - $30 plus tax